Building an extension to your existing property can bring several benefits, both practical and financial. Before embarking on an extension project, it's important to consider factors such as planning permission, building regulations, and available budget. Consulting with professionals, such as architects and builders, can help ensure that your extension meets all necessary requirements and maximizes its potential benefits.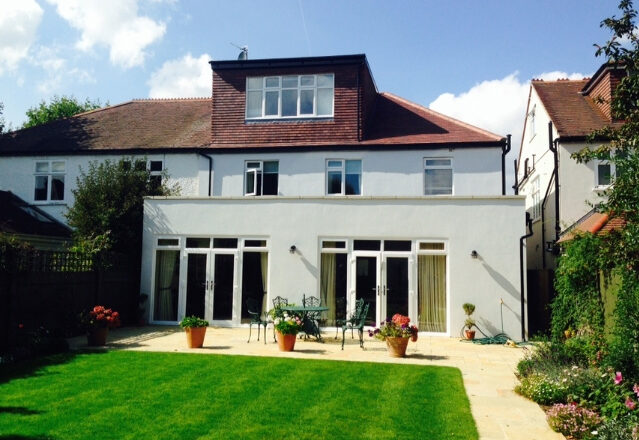 An extension provides you with extra space, allowing you to create more rooms or expand existing ones. This can be particularly beneficial if your family is growing, or if you need dedicated areas for specific activities such as a home office, gym, or entertainment room. It will give you an opportunity to improve the functionality of your home as well. You can create a larger kitchen, add a bathroom, or build a utility room, making your living space more practical and convenient for your specific needs. It allows you to stay in a familiar neighborhood that you already know, maintain social connections, and avoid the expenses and stresses associated with relocating. Also, building an extension can be more cost-effective than buying a new property, particularly when considering expenses such as agent fees, stamp duty, legal costs, and moving expenses. Additionally, extending your home often involves a lower financial commitment compared to purchasing a larger property in a desirable location.
If you have a separate, self-contained extension, such as a studio apartment, it can provide an opportunity for rental income. Renting out the extension can generate additional financial benefits and help offset the cost of building the extension itself.
Also, what is nowadays very important, constructing an extension will definitely increase the property value. Adding extra square footage and functional living areas often translates into a higher market value, which can be advantageous if you plan to sell your home in the future.
Starting to build an extension in London involves several steps. Here's a general guide to help you get started:
Research and Planning:

Determine the purpose of your extension and what you hope to achieve.
Familiarize yourself with the local building regulations, planning permissions, and conservation area restrictions in London.
Consider hiring an architect or a design professional to help you create detailed plans for your extension.

Budgeting:

Assess your financial situation and determine a realistic budget for your project.
Obtain quotes from builders, contractors, and suppliers to get an estimate of the costs involved. City Builders YK Ltd can provide you with the quotation, see you on-site, and discuss all the necessary steps.
Remember to account for additional expenses such as planning application fees and professional services.

Design and Permissions:

Work with an architect or a design professional to create detailed plans for your extension.
Check if your project requires planning permission. Visit the website of the local planning authority or consult with a planning consultant to determine the requirements.
Submit your planning application if necessary, including all required documentation and fees. Be prepared for the possibility of revisions or additional information requests from the planning authority.

Hire Professionals:

Engage with reputable builders or contractors who have experience with similar projects in London. City Builders YK Ltd is providing Londoners with quality construction services for over a decade.
Obtain multiple quotes and check references before finalizing any contracts.
Consider hiring a project manager to oversee the construction process and coordinate with various trades.

Construction and Building Control:

Once you have the necessary permissions and a contract with a builder, the construction phase can begin.
Notify the local building control department of your project and arrange for regular inspections to ensure compliance with building regulations.
Maintain clear communication with your builder, monitor progress, and address any issues that may arise during construction.

Completion and Handover:

Once construction is complete, perform a thorough inspection of the extension to ensure that it meets your expectations and complies with building regulations.
Obtain all relevant completion certificates and documentation from the builder or contractor.
Notify your local authority's building control department to schedule a final inspection.
Update your home insurance policy to include the new extension.
Remember that this is a general guide, and the specific requirements for building an extension in London may vary based on factors such as the location, size, and nature of the project. It's essential to consult with professionals, such as architects, planners, and builders, who can provide specific advice based on your circumstances.